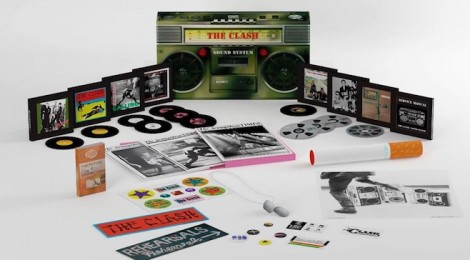 Afternoon all, I've got a few posts to make today. Firstly, in exciting news the first review for The Clash's upcoming
Sound System
box-set is in. If anything - it just makes me even more excited for the release of the boxset. It got a very positive review, and the remastering apparently makes the songs sound "crisper". I personally cannot wait - not only will it be a treat to hear the remastering but like I've said before, things like Armagideon Times fanzine I obviously missed out on being born in 1994.
In a perhaps pointless update, the boxset has risen in price slightly from its lowly price of £77 up to £94. I know monitoring it is a fruitless endeavor on my behalf because I've pre-ordered it at £77 - so any price risings won't affect how much I pay for it. Unless of course it decreases below £77 in which case I pay the new lowest amount. Having said that, I do feel that the boxset is excellent value for money: this coming from someone who has all six of their albums. It's interesting to note that in the review it states that when retailing at £81.50, the 11 CD's plus one DVD cost roughly £6.79 each. It's really not that far away from the £5.99 cost that
Sandinista
cost when originally released. Significantly also, that is before we factor in the elaborate packaging and all the extra merchandise it comes with. I do think it's good value for money, in all honesty.
As you can tell I'm rather excited for this release - meanwhile I've got a few more posts to be drafting now in order to post them later (in keeping with my schedule). I'm also going to tweak an older post, so I'll see you then!
The review can be found
HERE
.