Afternoon all from what is (once again) a gloriously sunny Belfast. I can't remember the last time we had weather this consistently good in all honesty! It's certainly refreshing for the soul, that's for sure!
Anyhow, with this post I want to share with you all two most excellent documentaries that I've watched within within the past 24 hours. First up we have The Doors - Mr Mojo Risin: The Story of LA Woman. It's suprising I've never seen it before now I guess because this does get frequently aired on BBC4 (which was the channel I watched it on last night). I do wonder if this particular re-airing was a sort of tribute to Doors keyboardist Ray Manzarek who of course sadly passed away very recently. This was especially interesting because whilst I really like The Doors music, my knowledge of their history and the band's timeline is non-existent. In fact - I'm fairly sure I've never even seen interviews with Ray Manzarek, John Densmore and Robby Krieger. LA Woman is a great album though and this equally great documentary did it justice. My highlight? It would probably have to be Ray Manzarek playing the gorgeous keyboard line of Riders On The Storm completely unaccompanied. No, not because of his recent passing but rather because if I had to pick one Doors song as my definitive favourite, I'd probably pick Riders On The Storm. Speak of Ray's passing though, the very final line of the documentary does carry a certain degree of poignancy in the light of recent events, but I will leave that for you to discover for yourselves.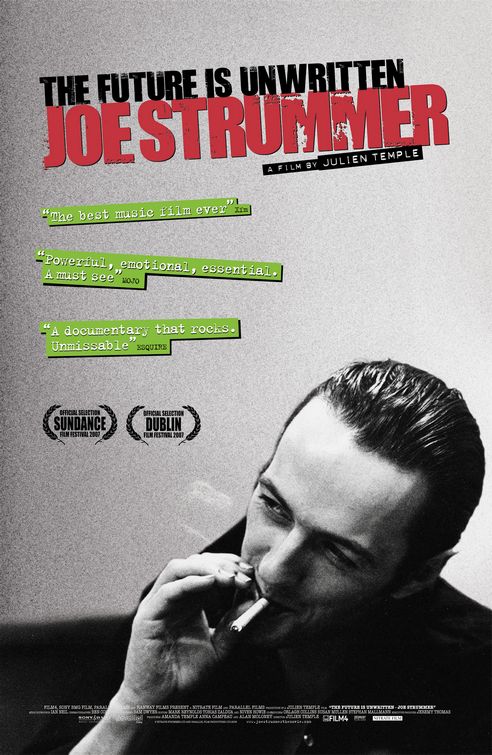 The other documentary I just finished watching an hour ago was The Future Is Unwritten - all about the life of a certain Joe Strummer (no prizes for guessing that). I know, it's quite surprising I've been a massive fan of Joe and The Clash properly for around eight months now and I hadn't seen it yet. It's one of those things I'd been planning to do for ages but something always seemed to come out. Alias, I've now finally watched it. It was a brilliant documentary and I enjoyed it a lot more than Westway To The World. I had high expectations for it too given that Julian Temple directed it - The Filth & The Fury documentary that he did on Sex Pistols was absolutely fantastic. I've read Redemption Song, which is the main biography on Joe but The Future Is Unwritten was also incredibly informative. Like said book, it also doesn't shy away from Joe's shortcomings but I came away from The Future Is Unwritten remembering just what makes me love him so much. What I loved about it also was the private home movies used - everything from Joe as a young boy to the first recording session of The Clash, which Julian Temple himself actually filmed. I cannot wait to have the full audio/video recordings of their early studio sessions as both are going to included on the upcoming Sound System boxset. I also loved the footage of Joe with his daughters. It was also amazing seeing the variety of people paying tribute to him in the documentary, Johnny Depp, Bono, Flea from Red Hot Chilli Peppers amongst others.
In other news - I did receive my postcards from Strummerville in the end and it turned out that the shirt was out of stock, not to worry I will order another one soon. I also ordered myself some bits and pieces (I've now got the entire discographies of The Smiths and Simon & Garfunkel on route and that's not everything). I assure you though, it was a lot cheaper than you'd think! They just got dispatched earlier today so I hope they're here either Tuesday or Wednesday, although it'll be certainly no later than Thursday. In the meantime I have more posts to be working on so stay tuned!